Unfortunately school has been keeping me busy, but I have started to work on my game once again! (Even though I should be studying…)
I have decided to restructure my game architecture to make it more manageable and maintainable. I am in the process of also adding in features that I've wanted to do but never had a good way of including them in the old framework. This time I'm making everything work very well together!
The current feature that was added was a simple way of generating levels based on level files. Not very complex but it makes life much easier for me later on.
Currently its in a very primitive state where I take a file with a specific format, for example this:

LLLLLLLLLLLLLLLL
LLWWWWWWWWWWWWLL
LWWWWWWWWWWWSSLL
LWWWWWWWWWWWSSLL
WWWWWWWWWWSSSLLL
WWWWWWWWWSSLLLLL
WWWWWWWWSLLLLLLL
LLWWWWLLLLLLLLLL
LLWWWLLLLLLLLLLL
LLWWWWWWLLLLLLLL
LLWWWWWWWWWLLLLL
LLLLWWWWWWWWWWLL
LLLLWWWWWWWWWWLL
LLLLLLWWWWWWWLLL
LLLLLLLWWWWWLLLL
LLLLLLLLWWWLLLLL
LLLLLLLLLLLLLLLL

And turn it into this: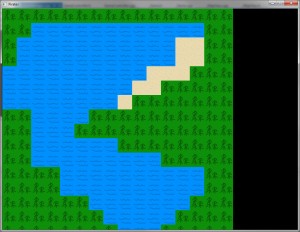 Fancy fancy.